(This is a sponsored post, however all opinions are my own.)
We're just back from a wonderful week in Kinsale Holiday Village (Co Cork). Nestled among green fields overlooking the town, this self-catering complex has everything we needed for a wonderful family holiday. We travelled with 2 adults and 3 kids, and this 3-bedroomed house was the perfect size for our stay. I co-slept in the double room with my two boys, and my friend and her daughter shared the twin room, so the single bedroom went unused.
This complex is a group of houses built on three sides of a square with a grassy area in the middle, and a smaller grassy area to one side, overlooking a field of flowers and butterflies. My favourite part of each day was when all the families would sit out in the evening, kids playing around, adults sharing a drink and chatting about the day. The view from our house was gorgeous, across green fields to the spire of the town church in one direction, to the Old Fort ruins and the sea in the other, and to cows grazing on a hill out the back. It really is a rural idyll.
Practically-speaking we were spoilt with the Lidl literally two minutes walk from the house, where of course we could stock the cupboards, buy ice-creams and fresh bread, and great wines. I always bring some store-cupboard basics when renting a holiday home, and usually do a couple of supermarket shops throughout the week, so this was perfect to walk to when we ran out of things.
There are two ways to get to the town, one longer walk past Lidl and down to the Perryville House hotel, or a shorter walk down a steep hill leading to Hamlet's. The steep hill appealed as it only took about 5 minutes, but had a couple of bends and no footpath, so I was a bit nervous of the traffic. Solved that on day 3 by discovering a detour through a small housing estate called "Four Winds" which was a nicer walk, only adding a couple of minutes to our stroll. The walk back is a great workout up the steep hill, and we even did this after a few late nights with sleeping babies.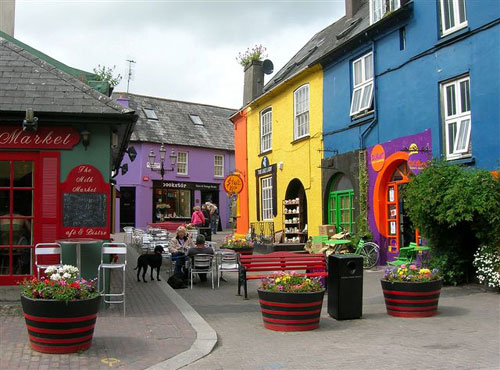 If you haven't been to Kinsale yet, you're really missing out! It is a gorgeous colourful town, full of quirky cafes and great pubs, traditional music sessions, lovely spots to sit and people-watch and gorgeous restaurants. Highlights for us were the Ghost Tour from the Tap Tavern, swimming at Acton's Hotel (though it cost 12e Adults, 6e Children and 1.50e towel rental - that added up to 63e over the 3 days we went and they were unwilling to do a multi-visit deal), sitting outside the Milk Market Cafe with a beer while the kids played in the sun, catching the Papa Zita's onstage for the last day of the Arts Festival, the Fun Fair at the harbour, ice-creams in Sunday's retro ice-cream shop, finding THE perfect sliver ring in Kinsale Silver, splashing in the fountain in the park, craft fair in the town hall on Wednesdays, Fota Wildlife Park (free with our Dublin Zoo pass)... I could go on and on.
A week was not enough, we didn't even get to a beach, or Charles Fort, or to tour the French Prison, or to do half the things we wanted to. We chilled out, relaxed from the hustle and bustle of city life, watched the millions of butterflies, discussed the hedgerows full of flowers, ate many ice-creams, and spent wonderful quality family time together without the distractions of laptops, Wii, blogging etc!
A few practical things we loved about the house, that I haven't found in other holiday rentals: A washer/dryer so you woke up to clean dry clothes (invaluable with small mucky kids), a dishwasher, an ensuite so we had 2 showers at our disposal, free use of towels and spare bedsheets, a large living space, tv in the bedroom (went unused but a lovely touch), a radio in the kitchen, a large clothes horse, an outdoor washing line... lots of little touches that make your life easier. There were other families with kids holidaying there, which was lovely, a real community-feel, nodding and smiling to each other as you pass in the town and we were genuinely sorry to leave this peaceful place.
I have to say a word about the on-site manager, Anne O'Connell (no relation!) I've stayed in other self-catering houses where you receive the keys on the first day, and are left to your own devices for the week, having to ring a central office if you have a query. Here Anne is on-site every day in her office, able to help out with your little queries (like how to turn on the oven!) is a treasure trove of local knowledge, and is a general ray of sunshine to have around. She will leave you to it if that's what you want of course, but in our case we were delighted she knew the children's names, asked after them whenever she saw them, and took a real interest in us for the week as she did with the other guests. Anne had no problem with us arriving on a Sunday (some places will only let you stay Saturday-Saturday).
I really hope to return this summer, to sample the juicy blackberries I saw forming in the hedgerows, and do all the other things on my list that I was too chilled to actually get up and do! Unlike other holiday destinations, Kinsale seems to have a year-round programme of events, so whenever you arrive you will find something to do. We noticed lots of Irish holiday-makers there, which is always a good sign. Kinsale has retained a small-town charm while dealing very well with the busy summer season. And you could find no better place to stay than the Kinsale Holiday Village, here's a link to their website
here
and Facebook page
here
.
Have you been to Kinsale? Any other gems I may have missed?
Nee x