This post is pretty fitting as I'm all about the "pink" these days!
A friend recently asked me to style her, and her style icon is Pink (an American singer for those over a certain age!) so I'm sharing some quick tips here while I work on a more detailed capsule wardrobe plan for this friend.
Pink has been my girl crush since forever. I love her confidence, her attitude, her punk styling. She manages to look sexy/girly/butch at the same time, and almost never panders to what men would find attractive. She dresses for herself, for comfort, and looks great whether dolled up for a night out:
Well, the shoes don't look so comfy
...or going to the shops
Even better, she's had a baby, and rocked the maternity look:
Check out the styling; co-ordinated bag, shoes and hat, slimming black leggings, funky dress, necklace, shades and glasses. Pile it on girl, it looks fab, yet like she hasn't tried too hard.
...baby wearing:
Yes, not an optimal sling design, but she's doing her best. Great idea for the beanie hiding probably unwashed/unstyled hair.
All over black (or co-ordinating with the main sling colour) makes the outfit look put-together, while the hat and glasses show originality.
and breastfeeding looks:
"Still" breastfeeding a 17 month old. Rare. Brilliant.
Obviously posed but still a gorgeous shot
I think she's a perfect style icon for any woman, but especially inspiring for moms who want a low-key style:
With Pink it's all about the hair and makeup. She wears pretty safe clothes, trousers and vests usually. She mostly goes for a fitted top half to show off her toned arms, and a baggy lower half to keep the silhouette casual and relaxed. But her styled hair and makeup dress up even the most neutral outfits. Above she's rocking perfect platinum hair, styled within an inch of its life. A full face of makeup, earrings and sunglasses. And her tattoos are another accessory that give an edge to her outfits. Nail varnish keeps her look feminine, counterbalancing the tough hairstyle.
Love that blue streak, who gets the chance with a newborn usually?!
Pink's makeup look is really handy and doable for a mother, because you can keep the lips bare, for eating and kissing babies. Do the makeup well in the morning and it will last all day. So if you had ten minutes for makeup and 5 for hair you could look as good as this everyday! (with the odd maintenance day, doing roots, nails, plucking eyebrows etc, once a month or whatever depending on your level of hirsuteness, is that a word?) The simplest makeup to get this look is a great base/foundation, evening out the skintone, blush and bronzer to define the sides of the face, eyebrow pencil, and however much eye makeup you want/need, or add the shades and leave the eyes bare.
She's also stunning without the makeup, but still grooms her brows, and is probably wearing a tinted moisturiser: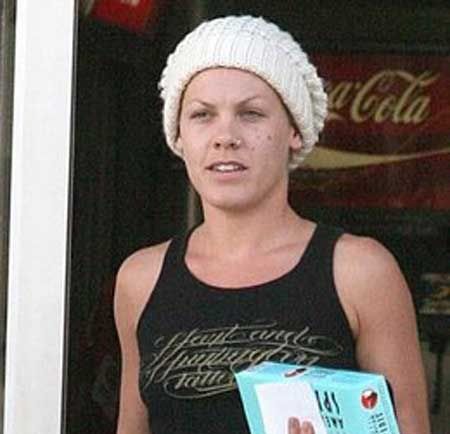 Pink's hair look can be achieved without resorting to the scissors, if you pull the back and sides up into a tight ponytail, and backcomb the top with a bit of gel.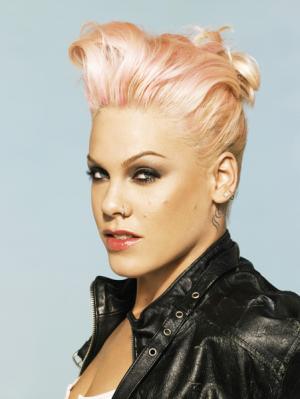 Before she went for the chop she had a buzz cut on one side, easily hidden by letting her hair down.
She had extensions for a while too, not my favourite look.
Just throwing this pic of Alice Dellal in, another gorgeous woman rocking an undercut.
And one more of Pink in her down-time clothes, still rocking the hat and shades look.
So while I'm not advocating going out and copying Pink's look to the letter, there are certainly some great ideas to funk up your look, and not a stiletto in sight!
Brief checklist to get Pink's look:
A funky hairstyle
Shades

A hat (beanie / fedora, check men's sections)

Oversized trousers

Vest tops

Cute baby

Groomed nails and tan optional

Attitude. You can bet she doesn't give a damn what circumference her thighs are.
Are you inspired to shake things up a bit?! Send me an email with a brief description of your style icon, your style dilemma and body type description and you could see a post tailored for you on The Mama's Hip! My email is niamh (at) the mama's hip blog (dot) com, please mark the subject line "Mama style"
Nee x