Tonight for dinner we're having stuffed peppers with parsnip chips. Dinner was preceded by banana and blueberry smoothies, lunch was carrot and squash soup. To say I'm cooking up a storm these days is an understatement. I'm nesting and filling the freezer with hummus, tomato sauce, shepherds pie, chopped vegetables, we have a gorgeous box of organic fruit and vegetables from The Organic Supermarket (
https://www.organicsupermarket.ie
) which is really inspiring me to try new combinations. (This is not a sponsored post though!)
c/o cocinaencantada.wordpress.com
To give you some ideas for recipes, firstly one of the easiest I've made recently is kale cheddar chips:
Organic kale leaves washed and shaken dry, sprinkled with olive oil, salt and pepper, and grated cheddar, baked in a hot oven for about 10 mins, absolutely delish and so much cheaper than buying kale chips (which usually come with some form of hidden MSG)
c/o gopixpic.com
Banana and blueberry smoothie:
Banana, frozen or fresh blueberries, kefir (from Polish supermarkets), a little honey and water, optional cinnamon and Vitamin D3 drops, fresh ginger, chopped apple (kids leftover). Freeze the extra to make a lovely sorbet.
c/o theshoeboxkitchen.wordpress.com
Hummus:
Chickpeas (tinned or dried, soaked and boiled), lemon juice, olive oil, garlic, salt and a little water, puree. This freezes really well.
c/o spontaneoustomato.com
Tomato sauce:
Fresh tomatoes, olive oil, garlic, onion, tomato puree, a little honey or sugar, salt and pepper, herbs of choice. Cook in slow cooker or saucepan until darkened and reduced a little. Puree. Great as a tomato soup, pasta sauce, pizza topping, lasagne filling... freezes well. (I don't use tinned tomatoes or puree any more since reading about the metals leaching into the food, linked to Alzheimer's etc.)
c/o taste.com.au
Carrot and squash soup:
Carrots, squash or pumpkin, onions, garlic, celery, ginger, herbs, salt and pepper. Roast veg first in oven or slow cooker if you have time, then puree and add water and reheat. Or just bung in pot or slow cooker with water to cover and cook until veg are soft and puree.
c/o eatingveggie.co.uk
Veggie Shepherd's pie:
Tomato sauce as above, red lentils, optional chopped veg/leftover curry, anything will work. Cook these together until lentils are done, adding more water if necessary. Put in a casserole dish and put mashed potato and grated cheese on top, freeze as is for a later date or cook in oven until cheese browning.
Whenever I'm cooking these days I'm incorporating leftovers or preparing and freezing extra portions of veg/sauces or whole dishes. I think being out of action the last few months has really made me appreciate having quick fixes so we can still eat healthy homemade meals without doing everything from scratch every day. There is almost no food waste here anymore. Like the stuffed peppers tonight: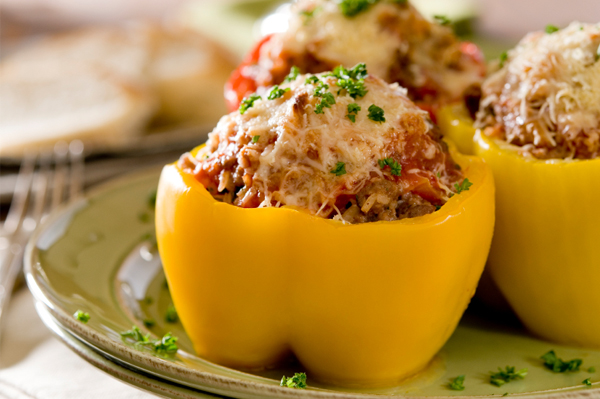 c/o sheknows.com
Stuffed peppers:
Cut the tops off large bell peppers, place in a baking dish. Into food processor I threw an onion, garlic, herbs, carrot sticks (leftovers), hummus (as above), crackers in the absence of breadcrumbs, cheddar cheese, olive oil, ketchup, fresh chilli. Blitzed and stuffed the peppers, topped with a bit more grated cheese then threw into the oven with parsnip chips (parnips cut into chip shapes in olive oil on a tray that I'd prepared and frozen a few nights ago) and that was dinner done. You could also cook the peppers in a slow cooker. They're good cold too, I missed my window for eating it hot or warm, and have no microwave! Of course you could stuff them with anything: bolognese sauce, mashed potato, eggs, stuffing or falafel mix, rice and beans with spices, leftover shepherd's pie, etc.
c/o pinterest.com
Oh, I made an apple and cherry crumble for a breastfeeding meeting I hosted today, threw it together in my pyjamas and it cooked while I manically ran around throwing toys behind furniture and hoovering with a neighbour's borrowed hoover. The crumble went down a storm, people had seconds, and even my kid had seconds !
Apple and cherry crumble:
Butter a pyrex bowl/dish. Into it put chopped apples (I only had eating apples, use cooking apples either) and frozen cherries (Polish supermarket again, love those places, check out the amazing ranges of herbal and fruit teas for amazing prices) A little honey and cinnamon / mixed spice and some small cubes of butter which will melt in and make a lovely sauce. In a separate bowl I added wheat flour, coconut flour and chopped butter, rubbed to a crumble, added oats and a little sugar and piled on top of the fruit. Bake until top is browning and fruit is cooked. I'd meant to do this in the slow cooker (2 hours on high, 3rd hour with lid ajar so top crisps up) and keep it plugged in so it would be warm all morning, but I wasn't organised on time, so baked in oven for maybe 45 mins. Served with natural yogurt.
Sin e a chairde (that's it my friends!)
Please add your ideas for nice veggie meals, I can always do with the inspiration!
Nee x